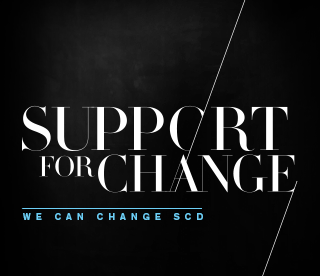 WE BELIEVE THAT PARTNERSHIP CAN CHANGE THE WAY PEOPLE THINK ABOUT SICKLE CELL DISEASE (SCD).
Treating SCD today means seeing beyond pain crises, focusing on the whole person, and considering their lifelong goals.
Our approach to care is radical, personal, and purposeful. We're pioneering advanced therapies with a deep sense of purpose aimed at refocusing treatment approaches and rethinking expectations for the future of SCD.
We know that partnership is the only way to move forward in SCD-partnership between physicians and patients, partnership between the SCD community and industry, and partnership that includes all of us.
We also know that partnership starts and grows through listening.
We hope that Change for SCD inspires you to listen to your patients, their caregivers, their families, and their communities. Their perspectives and insights, coupled with your expertise, will make positive change happen for SCD.
Change for SCD is inspired by the work that has been put into the SCD community by healthcare professionals and their patients, and even more so, by the great work we all have ahead of us.
Change for SCD photography
Rog Walker
Rog Walker is a Jamaican-born, multidisciplinary artist and engineer based in New York City. He began working professionally as a front-end engineer and platform designer for web. His primary work is a blend of visual production, web development, and creative storytelling aimed at documenting his experiences and the shared experiences of the creative community around him. He is best known as an editorial photographer and portrait artist and has produced work for numerous global brands and known figures. He lives and works in the Bronx, NY alongside his wife, Bee Walker.